Frequently Asked Questions About Cooking at Pensacola EggFest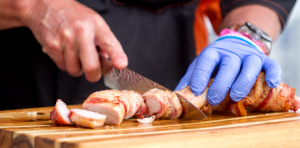 What can I cook?
As an EggFest cook team, you can prepare anything you like to serve.  Last year we had teams prepare briskets, Boston butts, smoked oysters, salmon, shrimp, paella, jambalaya, tri-tip, beef and pork tenderloins, stuffed shrimp and even a variety of desserts—all on the Big Green Egg.
How much food do we need to make?
EggChefs should be prepared to provide a minimum of 500 bite sized samples to our tasters. HINT: Bites are not servings—our tasters are expecting to sample your recipes. A slider for example, should be cut into 4 pieces or else you'll run out of food and your miss out on Peoples Choice votes!  Feel free to make more than one recipe too–folks like variety and it breaks up the cooking too.
Do I need to bring/use my own Big Green Egg?
Escambia Electric Motor is selling BGEs prior to the event at a discount, and these discounted Eggs will be provided to all cook teams to use during the event (so the answer is no, you don't need to bring in your own BGE, we'll provide one for you).  If you do choose to bring your own Egg, then please load it in on Saturday, November 9th in the afternoon.
How much does it cost?
Your $50 donation is used as a placeholder to make sure your team shows up the day of.  Click here to register your team now!
What does EggFest provide my team?
4 EggFest wristbands for your cook team
4 Tickets to the VIP Dinner
1 Large Big Green Egg, charcoal and starter blocks
1 Eight ft. table and table cloth
What does my team need to bring?
Cooks are required to bring all ingredients required for your dishes. This includes all your own food (at least 500 bite-sized samples), plus what you need to cook, such as:
Tents
Thermometer
Plastic serving cups (or whatever you'd like to serve your food in to attendees)
BBQ Tools
Oven Mitts
Smoking Wood
Seasonings
Nonstick Cooking Spray
Paper Plates
Foil
Paper Towels
Napkins
Toothpicks
Plastic Utensils
Cleaning Supplies
Food Coolers
Folding Chairs
Knives
Cutting Boards
When do we set up in the morning?
We'll have the lighting of the Eggs at 6:30 a.m. on Sunday and you may continue to prepare proteins, sauces etc. until 3pm.
What if my dish requires a long cook time?
EggChefs who want to cook briskets, pork shoulders or other long cooks that can't be accomplished between the lighting of the Eggs and 10am, may choose to start their cooks on their Eggs at home, as long as they adhere to the following guidelines:
Cooking items must be finished on a Big Green Egg at the Pensacola EggFest.
EggChefs must follow FoodSafe guidelines and ensure that the protein temperature has not been between 41-135 degrees for more than four hours.  The internal temperature must reach between 145 degrees whole or 155 degrees if injected.
Remember, you are providing bite sized samples—you are not expected to provide a meal.  More is fine!
What about the judging? What do the winners receive?
We'll award the top 3 Judges Choices, the top 3 People's Choices and we'll pick one team that represents the Spirit of EggFest. Remember, this is a fun competition to raise money for nonprofits. Have fun and make sure to interact with your guests, tasters and judges.  Personality and service are all part of a great tasting experience! Judging occurs starting at 11am and the top 10 teams will get a Call to the Hancock Club (upstairs at the Stadium) and be given a time to present their dish to the judges, explain your passion and recipe. Good luck!
Have more questions?